Advice for Taking Care of Senior Parents at Home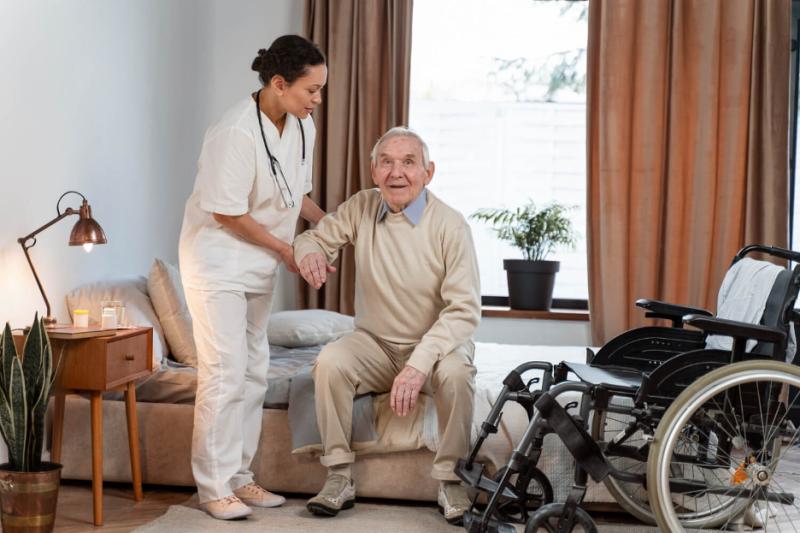 One of the harsh realities in our life is - our parents and grandparents are getting old day by day. As they age, it's serious that we must take good care of the elderly in our homes. Whether it's your parents or grandparents or you are working as a professional caregiver, knowing how to take care of elderly at home is important.
If you are someone struggling with caring for your elders at home, then we have a proper guideline to help you. In the following, we will look into some advice for caring for elderly parents at home. If you need further assistance then you should enroll in our family caregiver program from Caregiver Courses.
Helpful Guidelines for Caring for Seniors at Home
How to take care of elderly at home doesn't have a simple answer. Taking care of an aging family member's mental, physical, and emotional requirements is a difficult task that, if you're not ready, can turn into one of your most demanding occupations to date.
The elderly person in your life can be supported in feeling safe and taken care of in various ways. While it could initially appear daunting, providing care can make you both feel closer throughout this later phase of life.
Best Home Care Tips for Elderly Parents
We've put together a list of 12 recommendations to help you get started and stay motivated in the long run. These tips will help you manage the workload, reduce stress, and get ready to provide answers on how to take care of elderly at home.
1. How to take care of elderly at home: Closely Monitor Their Well-being First
Initially, staying connected through regular phone calls might seem enough. However, seniors often mask their struggles during phone conversations. Physical presence is often necessary to assess their well-being accurately. Whenever you visit them, make sure you find out any issues that need to be fixed. For example, you might want to see how tidy the house is overall or whether anything needs to be fixed if it's broken. Check their mail, plants, washing, and food supplies regularly.
2. How to take care of elderly at home: Calculate the Required Care They Need
Before you start caregiving, create a comprehensive list of daily, weekly, and monthly care tasks. This will help you to determine the level of care needed daily. Also, you will be safe with a routine of daytime and nighttime supervision.
Surprisingly, they might need no additional help from you, but be always prepared for any serious situations.
3. How to take care of elderly at home: Enlist Early Help
Caregiving can be overwhelming and becomes more demanding as parents age. Waiting for a crisis is not a good idea. Try to involve the entire family and share responsibilities. It should be a team effort to avoid burnout. If needed, hire outside help, such as you may hire individuals for housekeeping, showering and all. You can also use adult daycare if needed. These may add some costing to your budget.
4. How to take care of elderly at home: Realistic Expectations
Assess your ability to provide complete care without compromising your own health. Be honest about your limitations. Seek assistance from family and friends or professionals when needed.
5. Respite Care Provider
There will be times when you can't meet your parent's needs due to various commitments. Plan for respite care in advance to ensure help is available when required. You can trust an in-home respite caregiver for a few hours, a few days, or even longer. They will take your caregiving responsibilities in their hand. During your time off, you can catch up on rest, get a medical checkup, have some time with friends and do the necessary other duties. It will be to your loved one's advantage when you return to caregiving with renewed energy and focus after rest and recharge.
6. How to take care of elderly at home: Provide Easy-Ready Meals
Your loved one might not be motivated or able to prepare meals for themselves white it's crucial for them to maintain a healthy diet. Your schedule may prevent you from cooking frequently, but you can still prepare a few meals beforehand. Furthermore, depending on their circumstances, your loved one might be eligible for supported meal services like Meals on Wheels or might decide to enrol in a separate delivery meal plan. This can be arranged regardless of your location. Even customized demands, such as meals for people with diabetes, can be accommodated by some of these meal plans. Ensure they have access to nutritious meals.
7. How to take care of elderly at home: Tech Helps
When you are in charge of caring for senior family members, there are several methods to make the most of technology. For instance, you can monitor them from your workplace by installing a motion sensor or a camera. You may stay updated about falls, their movement, and other pertinent information by using a camera system. Your elderly loved one can also use tools to notify you during a problem. One choice is a Life Alert system, which has a button your loved one can touch to summon aid right away. You must persuade your loved one to wear the system at all times in case of an accident in order to use it.
8. How to take care of elderly at home: Keep Your Parent Active & Engaged
Encourage your parent to remain active and engaged in social, religious, and recreational activities. If you can't provide transportation, seek assistance from friends or related organizations. Older individuals often become isolated and lonely, so try to remain involved with their family and friends or new connections. Some communities actively offer activities to help your loved one stay social and active.
9. How to take care of elderly at home: Ensure a Safe Home
For any senior person, safety is a top priority. You must make necessary structural modifications to create a safe and accessible environment for your parent.
During routine inspections, regularly check that the home has efficient protection to prevent falls. Check that the bathtub, shower area, and any other possibly slick places have non-skid mats or strips installed.
Ensure that the house has proper sunlight and is sufficiently bright.
Put in an elevated toilet if necessary.
Build a ramp to accommodate walkers or wheelchairs.
Install grab bars and railings at the shower and toilet.
Ensure that wires, cords, and cables are securely stowed away to avoid any falls.
10. How to take care of elderly at home: Provide Safe Transportation
Due to loss of mobility, eye vision or reaction time problems, seniors often stay at risk of driving or transporting. Evaluating their driving skills is crucial, and if it does become a problem, provide other solutions. Arrange an on-demand driver/help so whenever the elder person wants to have a short ride, they get that. For groceries, for instance, you may use a delivery service.
One big help can be the volunteer senior transportation services. Check if related service is available in the area, and contact them. Whatever the situation is, try to get a reliable driver/help to transport the senior person, someone who has a basic understanding of the elderly person's health issues.
11. How to take care of elderly at home: Understand Financial Obligations
It's better to have a financial plan before the elder person gets unavailable to talk about it. However, you have to make an effort to have candid conversations with them regarding their financial requirements and outlays, particularly if they have a fixed income you must stick to a budget or offer better plans. Initially, caring for the elderly at home may seem financially challenging. However, there are various resources available. Educate yourself on how to manage senior care costs sensibly.
12. How to take care of elderly at home: Consult Home Care Agencies
When taking care of elderly parents at home but unable to plan how to take care of them initially, just schedule in-home consultations with local home care agencies. These consultations provide insights into long-term care planning, financial options, and caregiver tips. Their consultation will help you make informed decisions regarding your parent's care.
Don't Lose Yourself
While it's your responsibility to take care of the elder persons at home, it is also necessary for you to maintain your physical and emotional well-being. Stress, worry, and sadness are common among those who are caring for elderly loved ones. In spite of all this, you must remember to enjoy your life, take pauses, and travel occasionally. Even while you may feel that you must be there for the elderly person in your life, you also need to take care of yourself and acknowledge your own needs.
Conclusion
If you have read this article, you must have an idea of - how to take care of elderly at home. While following our advice, remember that there might be some unique situations that happen to you, and you will have to act upon that. Regular assessments and adjustments to the care plan are essential as their needs change over time.
Caregiving can be a demanding role, so it's important to seek help when necessary and prioritize self-care to provide the best support for your elderly loved one.
---
More to Read: